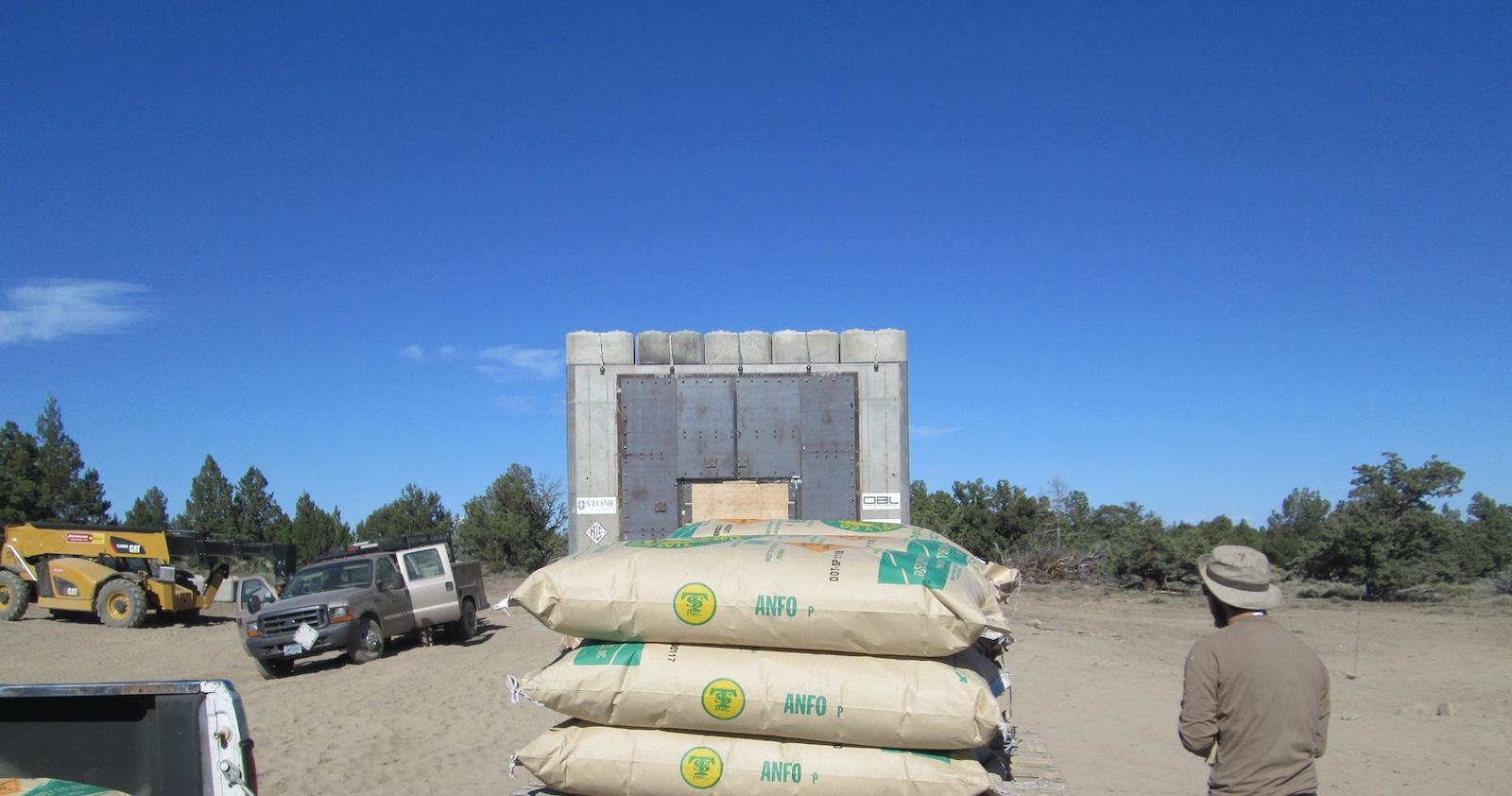 Starting in 2015, Stone Security Engineering, P.C. and Oregon Ballistic Laboratories Joined Teams as Stone-OBL, LLC.
Open Arena Testing
Stone-OBL is able to test building products using open-arena, full-scale blast testing – the gold standard when it comes to validating the protective power of building products.
The large-scale blast test facility comes equipped with a test fixture with a 15-ft x 15-ft clear opening, which can be used for single and multi-span building panels or for multiple product tests in a single shot. The fixture can also be customized to support curtainwall, door and glazing testing. Blast tests using multiple thousands of pounds of TNT equivalent charge weights and various energetic materials can be supported at this large-scale arena. Our modular steel fixtures can be utilized in conjunction for testing multiple products and standoffs in a single shot.
The facility can also accommodate customized blast test programs and setups as well as extreme loading incident investigations testing replication efforts.
Services
Market Consultation: If you are considering entering the protective product industry or are expanding your product lines, Stone-OBL can provide market insights and guidance regarding the current mandates and understanding of industry trends.

Product Development: Preliminary and detailed analysis and design of products intended to resist blast, ballistics, forced entry, fragment penetration, and fire.
Government Research and Development: Both Stone and OBL have extensive experience supporting government research and development programs and are able to coordinate testing requirements within the Government framework.
Product Testing: Blast, ballistics, forced entry, fire testing for doors, windows, curtainwalls, louvers, wall panels, structural retrofit products, perimeter walls, blast resistant modules, over-watches and guard shelters, etc.
Product Certification: Where testing standards or government requirements
Benefits
Multi-threat Testing: Blast, ballistics, fire, forced entry and weapon effects– all with one testing team.
Open-arena Blast Testing: Two locations in Oregon providing year-round accessibility.
Testing Packages: Advantageous packages available when testing for multiple threats.
Multiple Facility Certifications: Testing facilities are NIJ Certified, NVLAP accredited body armor testing lab, and have current ISO 17025 Certification for labs. Also Certified by US Department of State for Forced Entry and Ballistic Resistance of Structural Systems testing.
Extensive Instrumentation: Including full suite of owned instrumentation to include FARO, Doppler, HS video, fully instrumented Anthropomorphic Test Devices, etc.